Posted on
Categories
Blog
For any new pup parents, there can be a lot of questions and anxiety about how to keep your new puppy healthy and active. There is a lot of research that goes into the right kind of diet for a puppy, based on their age as well as breed. However, diet is only one part of a healthy lifestyle for a dog of any age, even more so for a puppy. The right amount of exercise is needed along with the diet to ensure your new best friend remains healthy, active, and happy.
What is the right amount of exercise?
For young puppies, you do not want them to over-exert themselves. Knowing the right amount of exercise is crucial to maintain a balanced lifestyle for your pup. Taking your puppy for a walk is the simplest form of exercise for it. It also becomes a part of potty training for your pup so that it knows when and where it is expected to do its business.
There is a general rule that many pet health experts suggest. You take your puppy's age in months and then you multiply it by five. The result you get in the number of minutes your puppy should walk. So, if your puppy is 6 months old, you can let him walk for about 30 minutes each, two-times a day.
Best Practices to Follow While Walking your Puppy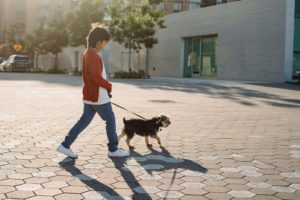 a)Increase the length of the walks gradually.
Do not rapidly increase the duration of the walks because your puppy's bones and muscles will take some time to get used to a certain level of exercise before it can take more. As in all things in life, moderation and a step-by-step approach are key.
b)Leash Training
Train your puppy to walk with a leash on. When you first put a leash on a puppy and take it out for a walk, it takes them some time to adapt to the idea. You do not want your puppy to choke itself while trying to run far away.
c)Take Frequent Breaks
As stated earlier about moderation, do not forget to give your puppy regular breaks during its exercises including walks. This will give your puppy the chance to rejuvenate itself and get charged up.
d)Avoid walks in Extreme Temperatures
Puppies are prone to the adverse effects of extreme temperatures. You guys will not be taking the dog out for a walk during a storm or flood-like situation but it is also important to avoid taking the dog out at times of the day or night when the temperature is at its highest or lowest.
e)Walk on Smooth Surfaces
Always make sure that you are taking your puppy on a walk where there are no sharp objects or the path is not coarse. This will lead to less chance of your little puppy hurting its paws or tripping over and falling.
In the End
Remember that every dog is different. Their breed, size, and age all play a role in their health and activeness. There is no right answer that fits all pups but the information given in this post can be applied to all puppies in general. In most cases, if you have a lawn, you would want to start your puppy's walks there itself. That will lead to your little furry friend pooping all over the lawn.
Doo Care offers its services in all different areas of Chicago. For example, we offer Elmhurst dog poop removal, Naperville dog poop removal, Glen Ellyn dog poop removal services. Our services will ensure proper dog waste removal and will leave your yard clean and hygienic.